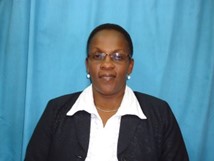 Name: Beatrice Sauline Nyakira
Email: bnyakira@must.ac.ke
Telephone contact: (Extn: 262)
I hold a BSc degree in Animal Production and MSc degree in Animal Nutrition, both from Egerton University. I teach animal production units to students in animal Science and other serviced departments. My area of specialization is animal nutrition and I have conducted research along the same line as follows:
The Effect of Supplementing Ensiled Sugarcane Tops with Morus alba and Calliandra calothyrsus on Growth Performance of Dairy Goat Kids.
Evaluation of The Nutritive Value of Sugar Cane Tops, Morus Alba and Calliandra Calothyrsus
Evaluation of Milk Production of Dairy Goats Fed Ensiled Sugarcane Tops with Mulberry and Calliandra Calothyrsus.
Status of crop Residues Utilization for Dairy cattle feeding among small scale farmers in Nyandarua County.
Effects of Cutting Interval on Nutritive Value of Sorghum-Moringa Oleifera and Sorghum-Gliricidia Sepium Based Silages.